Draught Works's Chain Reaction Fresh Hop Relay
Our goal was to create a beer produced via as much pedal power as possible.  The beer?  Chain Reaction Fresh Hop Ale. Have you ever heard of a Fresh Hop Relay?  Neither had we until we came up with the idea of transporting hops, grown in Corvallis, MT, to the brewery located on the West side of Missoula, MT.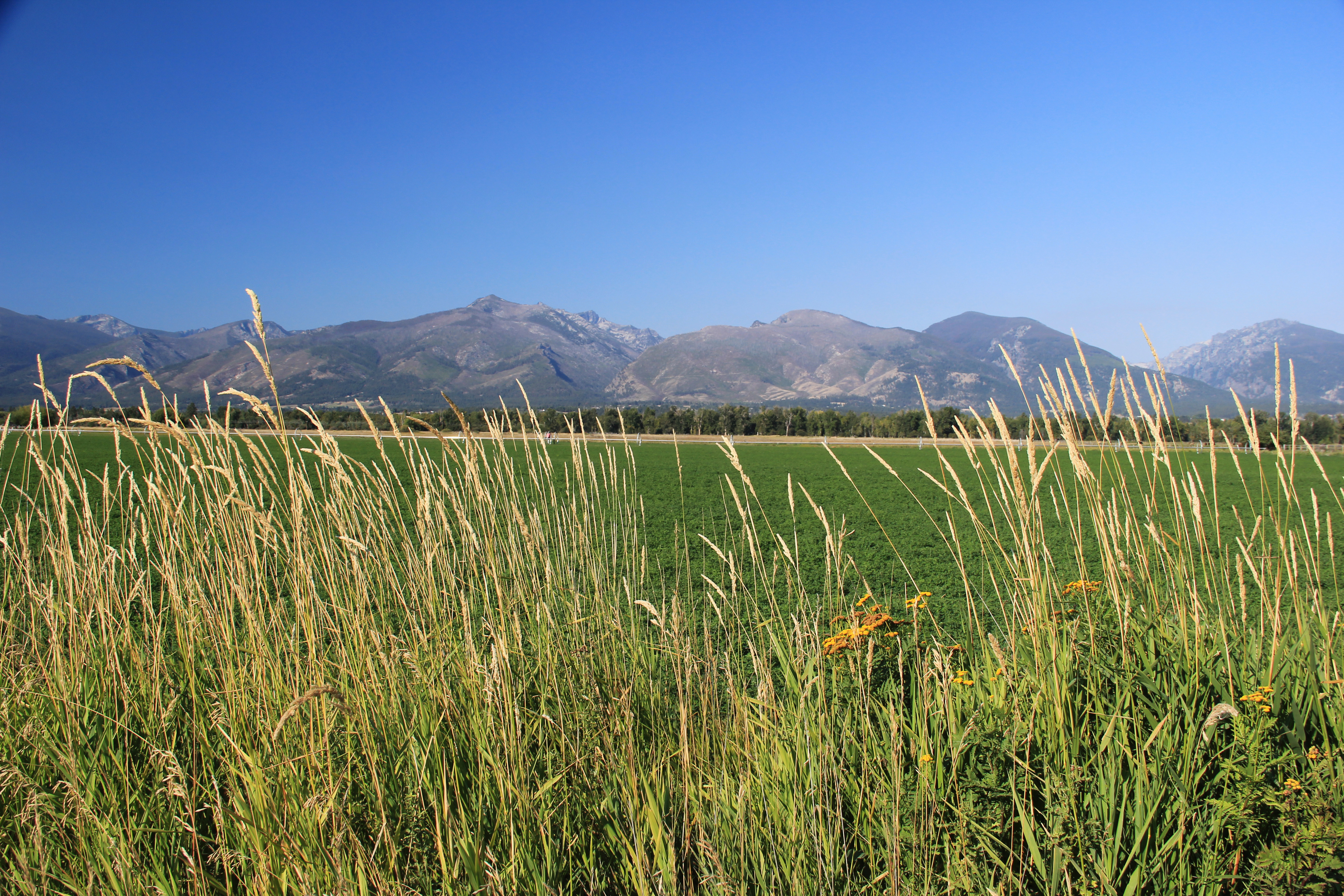 Fais Do – Do is a small farm nestled in the floor of the Bitterroot Valley. Rob Johnson and his wife Elizabeth Coss grow heirloom tomatoes and a dozen different varieties of hops, including Cascade, Northern Brewers, Galena, and Willamette. The night before the relay, volunteers celebrated the end of summer with pints, pizza, and hop picking. The 90 pounds of hops were equally divided into burlap bags and stored in a cool place where they would be picked up by racers the next morning.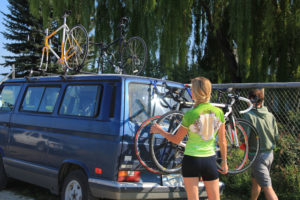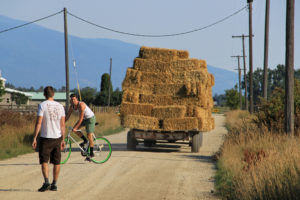 The next day dozens of racers gathered at the farm to start the 50 mile relay back to Missoula. Each team was awarded for their particpation with growlers of beer and Draught Works schwag.  The teams busied themselves strategizing how to best carry the hops on their bikes.
Finally, the gunshot sounded and all riders formed a peleton, riding together -crossing the highway where the real competition began.  Each team had four riders completing a single leg each between 8-12 miles long.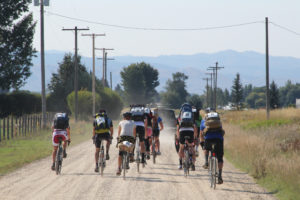 The last leg, weaving through Missoula's West side, demonstrated strong competition.  The teams whizzed by volunteers halting traffic.  The final two teams, riding head to head were The Bests, a team sponsored by the Griz, and
While riders had been racing towards the brewery, volunteers were pedaling the grain for the beer through a bike-powered mill. All said and done, volunteers pedaled 1,000 pounds of grain through the mill.
The brewing continued until late into the night.  Deflated balloons, costumes, and burlap bags that had earlier carried the hops back to the brewery were strewn about.   The  event was a great time for all and a success for Draught Works.  Come in and try our Chain Reaction Fresh Hop Ale.  There is a little taste of summer in each pint!
Thanks for another successful event – you were a link in the Chain Reaction!  We hope to see you all again next year!
-Draught Works